PROMATE 3W Multi-point Pairing Bluetooth v4.1 Car Kit with Music, Calls, Auto Power function. Colour Black
CarMate-7 wireless in-car speakerphone is a simple solution for responsible driving. Hands free calling lets you keep your eyes on the road, and the convenient motion-activated on/off sensor saves battery life. The sleek and compact design looks great in any car, and the powerful 3 Watt speaker with HD audio packs a punch. Noise canceling technology helps you hear more of your call and less of the road, and voice prompts let you know when you're connected, muted, or low on battery. And with 18 hours of talk time and three weeks on standby, you battery will last on even the longest road trips.
Features:
Easy to Use: Extremely easy to use and install. CarMate-7 remembers your paired device for easy pairing every time you enter your car.
HD Sound quality: Whether you're on a call or listening to music, the powerful 3W speaker delivers great sound
Multiple Usage: When you're not on calls, use the CarMate-7 to stream music, GPS directions and podcasts
Smart Voice Control: Use voice commands to take phone calls or get help from maps. You can even control music playback, just by talking
Hands-free Function: Engage in call function with the hands-free function along with the built-in mic
Automated Power Control: Power on CarMate-7 by just closing your car door thanks to its built-in motion control
Smart Switch Function: While receiving a call whilst playing music, carMate-7 automatically switches to call function
Multi-point Connectivity: Connect to two devices at the same time and make or receive calls on either one.
Universal Compatibility: carMate-7 is compatible with all Bluetooth enabled devices, USB powered smartphones & small tablets
Easy To Use
Wireless and free of complicated adjustments – Placing the kit on your sun visor is all you need to do before making your first call. When you enter the car, the Bluetooth car kit will automatically power on, and your phone will automatically be recognized and connected to the car speakerphone in seconds.
Crystal Clear Calls
CarMate-7's built-in microphone filters out background noise and picks up your voice, ensuring that the person on the other end of the line can hear you loud and clear. It works even when you are driving down a busy motorway. It also comes with built-in echo and noise cancellation to eliminate interference while you're talking. 
HQ Sound Quality
Whether you're on a call or listening to music, it will deliver the best possible sound. With its 3W hi-fi speaker, you will enjoy better conversations. When it's connected to your phone, you can use it to listen to music or to the navigational instructions.
Multiple Usage
When you're not on a call, you can use the CarMate-7 to stream music and use your phone's voice commands on your kit. You can also use the kit to broadcast the GPS sounds from your phone or any application.
Hands-Free Assistant
Engage in call function with the handsfree feature along with the built-in mic. Activate your phone's voice commands like Siri by short pressing the voice command button. Using the CarMate-7's handsfree assistant feature, you can use it to dictate your SMS and emails to the kit and even post voice messages on your Facebook wall or Twitter page.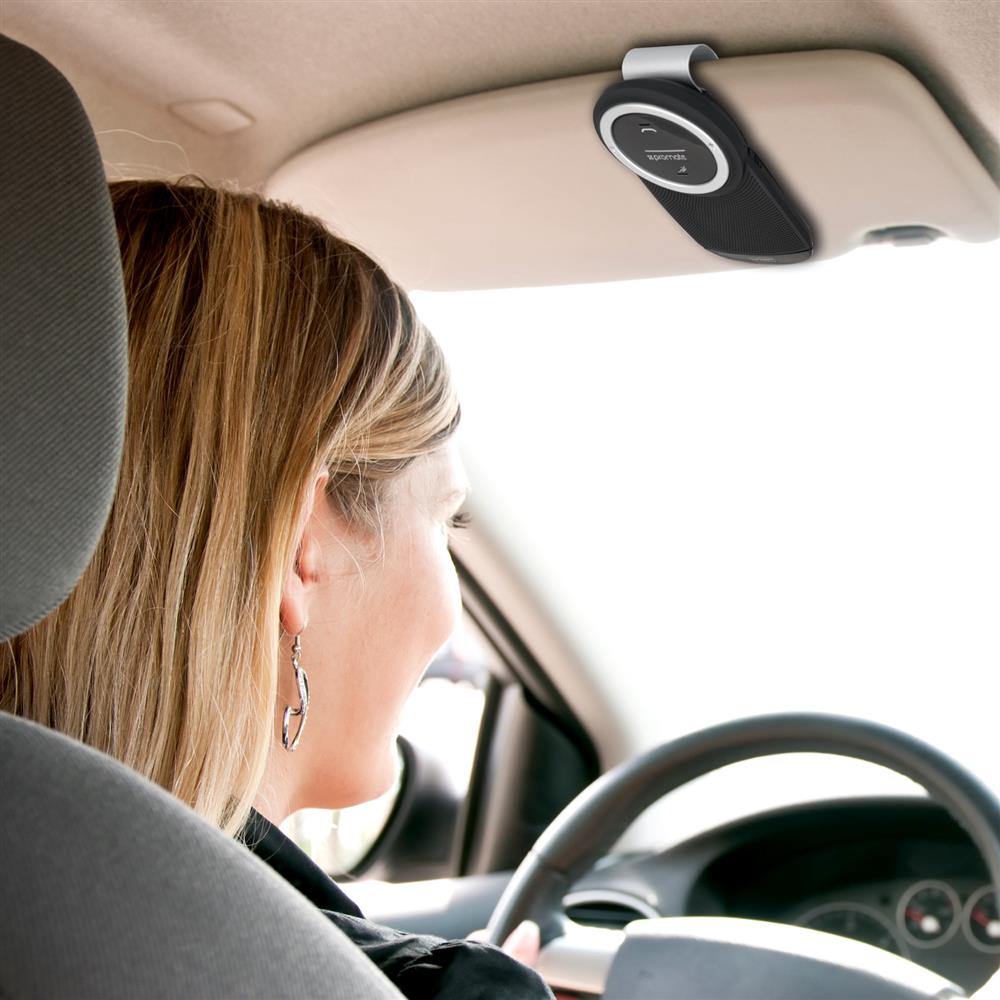 Automated Power Control And Save Energy
Power on CarMate-7 by just closing your car door through the built-in motion control. Leave the device switched on when you leave the vehicle and when you return a short time later, it will instantly recognize and reconnect to your phone as soon as you open the door. If there is no phone connected in 180 seconds, it will turn off automatically.
Specifications
Bluetooth Version: v4.1
Bluetooth Chipset: ISSC IS1681S
Bluetooth Frequency: 2.4G
Bluetooth Profile: A2DP, HFP, HSP, AVRCP
Power Input: 3.7V
Talk Time: 18 hours
Speaker Output: 3W
Operating Distance: 10 meters
Datasheet